13 juillet 2014
Accueil~Welcome
find the English version below
Around Avril Lavigne
Around Avril Lavigne a été créé afin de partager notre collection sur la chanteuse canadienne Avril Lavigne. Ce site se veut également un référentiel pour les fans collectionnant les différents supports d'Avril.
Fans d'Avril depuis 2004, c'est à partir de cette date que notre collection a débutée.
En 2013, Around Avril Lavigne fait partie intégrante de Avril Bandaids France, fansite francophone que nous administrons. Rejoignez notre communauté!
Les messages
Chaque produit est présenté dans un message qui se veut des plus précis avec de nombreux renseignements: L'année de publication, le lieu et la date d'achat, notre avis personnel...
La mention "rareté" accompagne également chaque produit. Elle permet de faciliter vos propres recherches. Vous saurez facilement si l'objet que vous consultez est difficile à trouver. Vous pourrez alors vous faire une idée de l'investissement à envisager pour vous le procurer. Les légendes sont:
* très facile à se procurer
** pièce intéressante, mais pas introuvable
*** rare, difficile à se procurer
**** très rare (ou pièce quasi-unique)
La navigation
Pour accéder aux posts, vous pouvez parcourir les différentes pages. Around Avril Lavigne contient actuellement 92 pages.
Afin de permettre une consultation agréable de nos différents produits, une galerie photo est votre disposition. Lorsque vous naviguez dans la galerie, la mention "all the pictures and a full description of the product HERE" apparait sous chaque photo. Elle vous permet de rejoindre rapidement la page dédiée au produit.
N'hésitez pas à utiliser également les archives ainsi que les diverses catégories créées.
Le calendrier à droite vous renseigne sur les nouveaux messages postés. Quand une date est soulignée, cela signifie qu'il y a un nouveau post.
informations utiles
Nous essayons d' actualiser notre site régulièrement, cependant, nous attendons d' avoir au moins une dizaine de nouveaux objets pour les publier sur Around Avril Lavigne.
Les photos utilisées sur Around Avril Lavigne sont nos propres photos et sont protégées en vertu de la loi sur la propriété intellectuelle. Pour toute questions concernant les photos (emprunt, droit), merci de consulter le FAQ.
Si vous avez la moindre question n' hésitez pas à nous contacter.
Merci, et bonne visite!
Alice et June
---
Around Avril Lavigne
Around Avril Lavigne was created to share our collection about the Canadian singer Avril Lavigne. This site is also a repository for fans who are looking for various materials about Avril.
We have been Avril's fans since 2004 and our collection began at this time.
In 2013, Around Avril Lavigne is a part of Avril Bandaids France, the French fansite we take care. Join our community!
Messages
The English version of a message always comes after the French one.
Each product comes with an accurate message containing a lot of information: The year of publication, the place and the date of purchase, our personal opinion...
A grade for the rarity is specified for each product. It can facilitate your own research. You will easily know if the object you search is hard to find. In this way, you can get an idea of its price. Below the caption:
* very easy to find it
** interesting, but not untraceable piece
*** rare, difficult to find it
**** very rare, or unique piece
Navigation
To see the different posts, you can glance through the various pages. Around Avril Lavigne has now 92 pages.
To permit you a pleasant consultation of our different products, a photo gallery can be used. When you navigate on the gallery, the mention "all the pictures and a full description of the product HERE" appears below each picture. Thanks to it, you can quickly reach the page dedicaced to the product.
Don't hesitate to use the archives and the various categories which were created.
The calendar on the right shows the new posts. When a date is underlined, it means that there is a new post.
Further information
We try to update our site regularly, but nevertheless, we post new messages on Around Avril Lavigne only when we have several objects.
The pictures which are used on Around Avril Lavigne belong to us and are protected under intellectual property law. If you have any questions about the pictures (borrowing, law), please consult the FAQ.
If you have any questions, please, don' t hesitate to contact us! Thank you very much and enjoy!
Alice and June
---
Around Avril Lavigne-Best Avril Lavigne collection
Avril Bandaids Awards 2012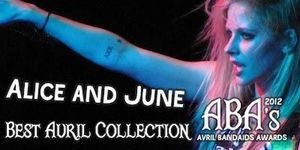 Avril Bandaids Awards 2013